Glengyle is the third distillery beside Springbank and Glen Scoia that is still active in Campbeltown. "Active again" it should read, since Glengyle has been revived 2004 and is now producing the Kilkerran single malt whisky.
Video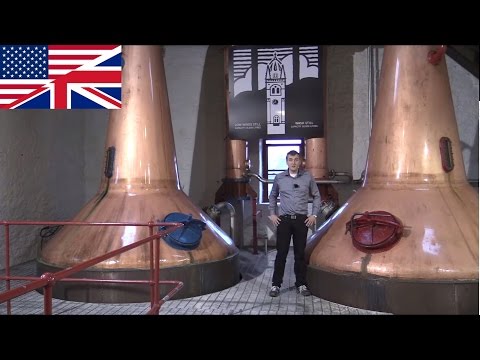 Average tasting notes

Tasting Notes

Calculated from 57
Details about the Distillery
The Whisky
The whisky produced at Glengyle Distillery is marketed as Kilkerran since the name rights to Glengyle belong to Loch Lomond Distillers, who released a blended whisky under that name. The name Kilkerran is derived from the name of the early Christian settlement Saint Kerran on whose site Campbeltown was built.
The first release of Kilkerran Single Malt Whisky was a three-year-old in 2007. Starting in 2009, the distillery each year released a new Kilkerran Work in Progress, with each batch being one year older than the previous one, until Kilkerran presented the 12-year-old as the new standard product in 2016.
Kilkerran single malt is slightly smoky. The 12-year-old Kilkerran is batched from 70% bourbon casks and 30% sherry casks. Besides its peaty basic character (12-15ppm in the malt), it features fruity lemon notes, vanilla, honey, butterscotch and notes of malt.
The previous Kilkerran Work in Progress releases had differed in cask selection. There were all-bourbon-cask releases such as Kilkerran WiP 6 as well as sherry-only whiskies such as Kilkerran WiP 7.
The Production
Glenglye Distillery has not been operated at anywhere near its full capacity of 170,000 litres. According to Ingvar Ronde's Malt Whisky Yearbook 2016, they aimed for a production volume of 30,000 litres in 2015.
The Mashing
The old malting floors of Glengyle Distillery have not been recommissioned yet. Until that day Kilkerran the malt is provided by the sister distillery, Springbank. There, the barley is steeped in water from Cross Hill Loch and then spread on the malting floor for 5-7 days to start the germination process. It is turned over every four hours. After that, the malt is dried over peat fire for 6 hours and over hot air from a gas oven for 30 hours. The malt then has a phenol content of 12-15 ppm.
The malt is transported to Glengyle Distillery and milled in a Bobby Mill, a present from Craigellachie Distillery, which had purchased a new mill.
Mashing takes place in a semi-lauter mash tun manufactured by Forsyths of Rothes. During mashing, which takes 7-8 hours, in each run four tons of grist are washed out with hot water three times.
The Fermentation
The resulting wort is then brought to fermentation in the four wash backs made of larch wood with the help of yeast. The containers each have a capacity of 30,000 litres but are only filled with 25,000 litres of wort to leave enough space for active, expanding liquid. After 70 to 110 hours the beer with an alcohol content of 5% abv is ready. The Glengyle website makes it clear that there would be room for additional wash backs.
The Distillation
Glengyle took over the distillation equipment from Ben Wyvis Distillery. The wash still holds 18,000 litres, while the spirit still holds 15,000 litres. The latter used to be a wash still, too, but was converted here at Glengyle Distillery. The first distillation run results in 21-23% abv, while the heart of the second distillation run is collected in the spirit receiver with 68% abv.
The Storage
The casks are filled with new make that has been diluted to 63.5% abv. with water from Crosshill Loch. The casks are weighed before and after filling in order to measure the exact amount of alcohol filled in. Glengyle uses mainly bourbon and sherry casks, but occasionally also port, Madeira or rum casks. When the casks have been filled and labelled, they are transported by tractors to the warehouses of Springbank Distillery. There are six traditional earthen-floored dunnage warehouses in which the casks are only stored three rows high, but also two racked warehouses with steel racks that house seven rows of casks.
The History
In 1872 William Mitchell founded Glengyle Distillery and built it one year later. The Mitchell brothers were the uncrowned whisky kings of Campbeltown. John and his son Alexander ran Springbank Distillery just a few metres away from Glengyle. William at first had a share in Springbank, but was dropped after an argument with his brother. Other Mitchell brothers ran Riechlachan Distillery next to Glengyle. But recession also came to Campbeltown, and of the more than 25 distilleries that had been active during the town's heydays one after the other had to close. In 1919 William Mitchell sold Glengyle to West Highland Malt Distilleries Ltd., who in turn sold everything again for £300 in 1924, before Glengyle was finally closed for good in 1925. The remaining whisky stocks were auctioned on April 8 of the same year.
In 1940 the Bloch Brothers tried to reopen the distillery but failed not least due to the unstable economic situation during World War II. In 1957 Campbell Henderson made a new attempt but didn't get beyond applying for the licence. From the 1970s on the buildings were used as warehouses and sales offices of Kintyre Farmers Cooperation. However, they had been vacant for several years when Hedley Weight, a descendant of William Mitchell and owner of Springbank Distillery, bought the Glengyle buildings in November 2000, started renovations and reequipped them partially with used equipment from other distilleries. Mitchell's Glengyle Distillery reopened in 2004, and on March 25, 2004 the first Kilkerran new make was distilled.
The Visitor Centre
Glengyle Distillery can be toured twice a day from Monday to Saturday.
The tours start at 11.00 a.m. and 02.30 p.m.
Admission is £7.00 including a tasting dram.
There are additional offers for tours or tastings, which can also be combined with visits to Springbank Distillery.
Please consult the distillery in advance under 44 (0)1586 551710 or info@kilkerransinglemalt.com.