George Dickel Distillery is situated at Cascade Hollow/Tullahoma in Tennessee. It doesn't produce Bourbon, as the distillery proudly declares on its homepage, but Tennessee Whiskey. Well, in fact, George Dickel Whisky is a straight bourbon whiskey that is produced in Tennessee. These are the two requirements to be met if a product is to be called a Tennessee Whiskey.
Video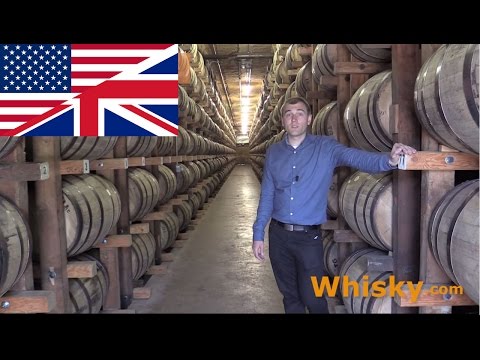 Average tasting notes

Tasting Notes

Calculated from 56
Details about the Distillery
The Whisky
Because of the Charcoal-mellowing George Dickel Whisky is very smooth and clean. As you have already noticed George Dickel is labelled 'Whisky' and not 'Whiskey'. Founder George A. Dickel judged his product as being as good as the Scottish once and wanted to reflect this by using the spelling whisky.
George Dickel Tennessee Whisky is available in a variety of releases. No. 1 is a fine un-aged and mellow white corn whisky. No. 8 is the most famous release with a nice balance of flavours like caramel, wood, maple and buttered corn. No. 12 is a 90 proof (45%) Whisky and brings up intense flavours of rich oak, vanilla, butter and smoke. George Dickel Rye Whisky is different, because it is based on another mash of 95% rye and 5% malted barley, but the production process is equal. This is a spicy whisky with a mellow finish.
The Production
This whisky really earns to be called 'handcrafted'. Many of the procedures that are done by computer in other distilleries are still done by hand here. The weighing scale for the corn for example is an old one that works with levers, not by electricity.
The water for the George Dickel Whisky production is taken from a creek that is fed by a well about three miles away. The water runs through limestone so that it is low in iron and very smooth.
The Mashing
George Dickel Tennessee Whisky is based on a mash of 84% corn, 8% rye and 8% malted barley. After passing a hammer mill the grist is mashed in two mash tubs with a capacity of about 9.500 gallons (36.000 Liter). George Dickel Whisky is a sour mash whisky which means that a small amount of the remains of the last distillation is taken from the base of the still and added to the new following mash. In spite of the name this has no special influence on the taste of the whiskey you get in the end. It ensures a yeast-friendly low pH-value and therefore a reliable continuity of the following fermentation.
The Fermentation
The sweet water from two mash tuns fills one fermenter. Uncooled, unheated. Fermentation takes part without influencing the natural temperature. George Dickel Distillery uses 5.5 kilos of yeast per fermentation process which they produce in their own yeast farm. When fermentation ends the received beer has an alcohol concentration of about 8% ABV.
The Still
After being collected in a beer well the beer is pumped onwards to the stillhouse of George Dickel. Here it is distilled in a column still, resulting in a spirit of 57% ABV. A doubler concentrates it to 65% ABV, which is the White Dog that will mature to George Dickel Tennessee Whisky in the following years.
The Charcoal Mellowing
But before being filled into casks this new spirit of George Dickel has to pass charcoal mellowing. On side of the distillery a 15 feet high stack of hard sugar maple trees, cut into bars, is gently burnt to get charcoal out of it. This charcoal is shovelled into tanks. The new spirit now is very slowly filled in and filtered by the charcoal. This process takes about 7-10 days. Not to forget a very important detail: The spirit is cooled down before the charcoal mellowing because George A. Dickel found out his whiskey tasted much better when it was made in winter.
The Warehouses
Barrels for George Dickel Tennessee Whisky are made of American white oak. Before filing them with the spirit they are charred. Here at George Dickel Distillery they use a no. 4 char. Barrels are labelled by hand and then stored in the single-level warehouse so that no rotation is necessary to get consistent flavours. Warehouses are made out of sheet metal and are not far from each other to provide uniform aging conditions.
History
When George A. Dickel, born 1818 in Germany, immigrated to the USA at the age of 26, he worked in the shoe trading business before starting to sell spirits in Nashville and in 1870 producing his own whiskey in Cascade Hollow. For a long time the whisky was known as Cascade Tennessee Whisky. When George Dickel died in 1894 it was re-named George Dickel Whisky and successfully led by his wife Augusta and his partner and brother-in-law Victor Schwab.
Prohibition forced Schwab to close the Distillery at Cascade Hollow. He moved to Kentucky where he produced his Whisky up to his death in 1924. Schenley Distilling Company bought the brands Dickel and Cascade Hollow in 1937 and 1958 they built a new distillery next to the old distillery ground at Cascade Hollow. It was a reconstruction of the old distillery and they used the same old recipe and the same water source for the whisky they produced now.
From 1999 to 2003 production paused, meanwhile belonging to Diageo. Since the George Dickel Tennessee Whisky is constantly introducing new releases and keeping the old traditional recipe as well.